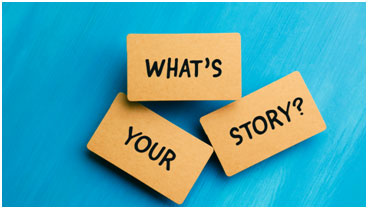 A story can entertain, sadden our hearts, make us thankful and mostly teach us. Other peoples' real-lifestories, their lived experiences told to us by them can lift us but also replay in our minds on repeat as we repeat and share their stories with others.
This is what we all experienced as part of a Story Exchange. A powerful model that helps you see the world, and ourselves, more empathically through the exchange of personal narratives.
Our Story Exchange was hosted and facilitated by University of Birmingham. The Home of so many stories, of great Birmingham figures like Joseph Chamberlain, of the statues and figures standing guard outside The Great Hall, The clock face on Old Joe bearing down on all the thousands of students writing their own great stories.
For our group of mothers all learning English, their visit to University of Birmingham started two weeks ago. Their learning and excitement of the place they were to visit, researching and learning the history of University of Birmingham and amongst it all learning about the stories of the University.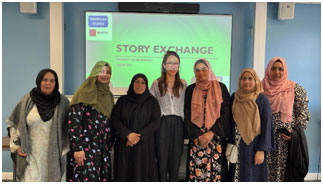 A brisk walk later and we were met at by Ruth Gilligan- our facilitator for the morning. Ruth explained the process and soon enough we were all back in the seminar room ready to share our partner's story.
It was hard hearing about Shaista's memory of momentary losing her five year old child at a wedding. The little boy had wandered off looking for his dad, but found himself lost streets away. We all breathed out as we heard he was found safely and returned. All the mothers were thrown back to a time when they too had lost sight of their child for seconds and were gripped in that vice of fear.
We cried with Noreen as she sobbed when her story was told. Of a happy memory singed with sadness and pride as she single headedly raised her three children; in a country where her English language skills and money were scarce. We shared her joy at her daughter's wedding as we heard how she had arranged it all and hosted her family and community. Noreen's road was well travelled and in the haste of just surviving there had been no time to neither reflect nor grieve at her loss and achievements.
Nabila's story of a difficult pregnancy and labour again had us all in tears as we heard how she almost lost her baby boy.  And thenZoya's story, of how she left her four weeks old daughter in Pakistan for ten months. Her baby's first year shattered by the requirements to meet UK Immigration Laws.
Amongst it all, we shared Banu's joy as we heard how with limited English language skills she spoke to and arranged for the Gas Company to come out and resolve a gas leak in her house. For Banu, Noreen and so many others one theme spun through their stories – their children and their roles and feelings as mothers.
Again, this instinct showed through as we all sat down in the grounds of the University to share a picnic. Their concern that Ilham was feeling unwell and their collective hunt for Paracetamols, in the depths of handbags. Their care at ensuring all the many dishes and cakes were shared. And then as we wandered and took in all the sights and sounds ensuring everyone was included and involved.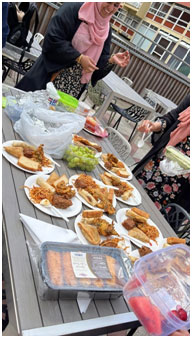 All stories leave their listeners with hope. And as we started our walk back we all too left with hopes. Hopes that one day soon we would all return with our families to share and experience University of Birmingham together and a hope for the future that they too would see themselves and their children graduating.